We look forward to welcoming you back to Ignite once COVID-19 restrictions for restaurant dining and take-aways are relaxed.
Stay safe and healthy in the meantime.
We are proud winners the Best Asian Restaurant Edinburgh category at the Asian Restaurant Awards 2020.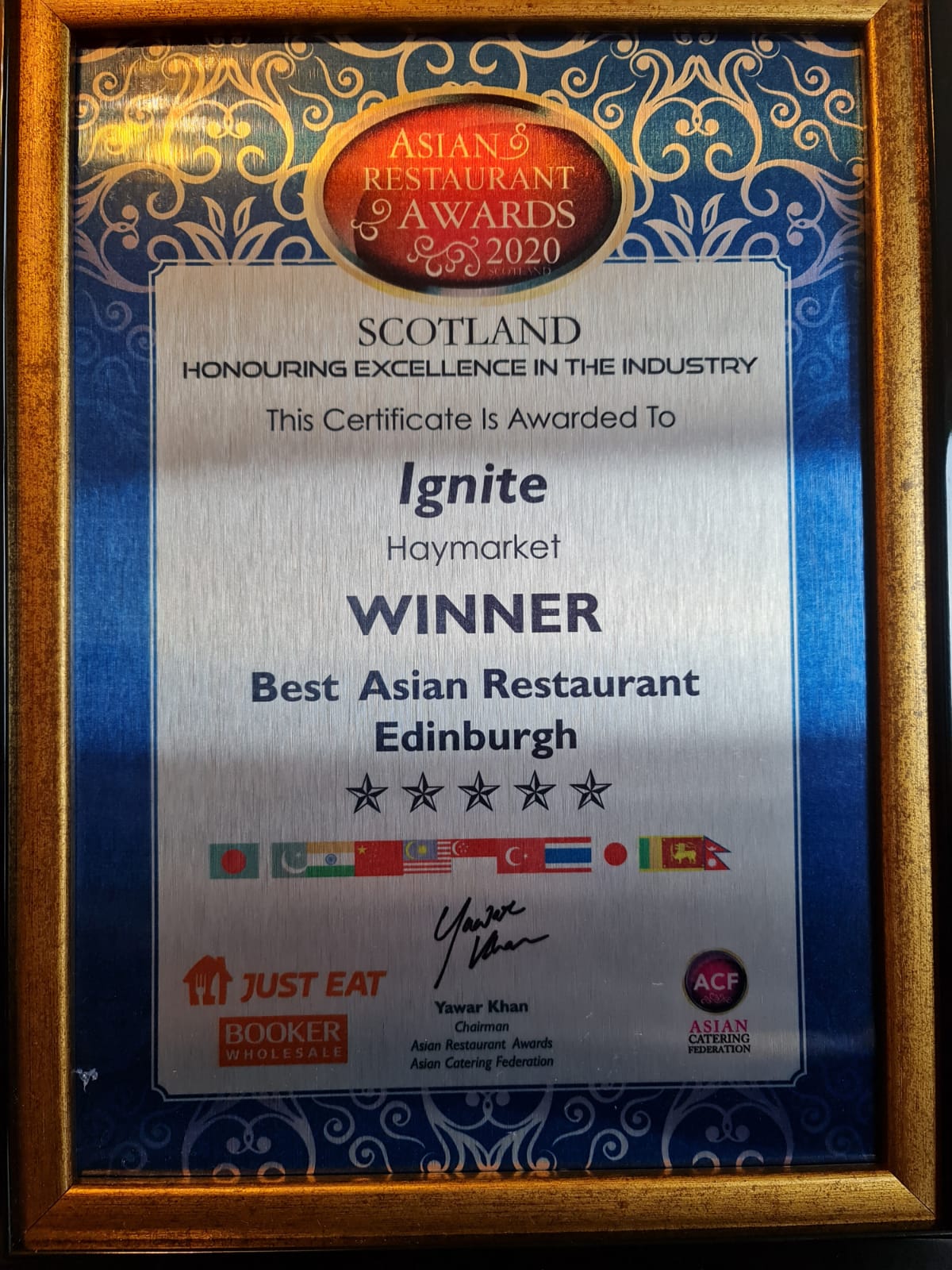 Join us in Spring 2021 for a unique cultural experience as our gifted culinary team transports you to the sultry heat of Bangladesh and Northern India with a symbiotic fusion of traditional Asian recipes developed with a modern and original 'twist'.
Our menu ignites the senses while our ambient setting – stylishly decorated with both Indian and African artefacts – conjures up a cross-cultural and undeniably memorable dining experience.
We are recognised experts in developing authentic Indian cuisine, offering a selection of menus, which feature popular curries, vegetarian main dishes and seafood platters, as well as extensive white wine, red wine and champagne lists.
You'll find our best-selling Tandoori and Biryani dishes, for example, among our Ignite Classics – a range of well-known curries prepared in our own unique style.
Choose from lunch, dinner, or a specially prepared banquet for two to 60 people by calling us on 0131 228 5666 or by booking opposite.
Normal opening hours (post COVID-19)
Post-COVID-19 we will be open 12-2 pm for lunch and 5.30-11.30pm for dinner Monday to Sunday. We will confirm our opening hours in March following the announcement of government guidelines.
Our 50 second video gives you a flavour of the Ignite dining experience